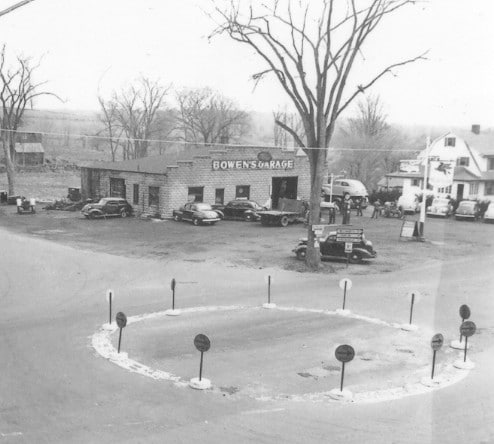 BGI was founded in 1922 by Oliver D. Bowen. Oliver was born and raised in Eastford and attended technical school in Hartford. He sold bread to pay for his schooling. He then opened a general repair, livery, and dump truck service in the little garage just south of the present building on the east side of Route 198. He sold Fords that he got on consignment from Omera Ford in Hartford. Oliver built the present building in 1930 and got his own Ford franchise in 1930. Throughout the 30's, he sold Fords, Mercury's, and Lincoln Zephyrs. 
    This is also when Spencer started working here. From 1939 to 1947 they sold Ford tractors as well, Spencer can vividly remember driving them home from the Abington train station. After World War II, tractors, Mercurys, and Lincolns required a separate franchise.
    In 1948, the showroom and the cement floor portion of the shop were added on. The exterior of the building was renovated in 1994 after a strong wind removed the flat roof over the showroom.
    Spencer has worked here all his life except for when he served his country in the Army during WWII. He started driving and working here when he was around 8. One day his mother (Gertrude) looked out and saw a truck going through the backyard with no one in it. Spencer was standing on the running board so he could see to drive. 
    Stephen's story is not too different. He started driving and working when he was 10. He started pumping gas in 1969 and has been here ever since. He officially took over the business around 1979.
    Jonathan, Stephen's son, is 28. He also learned to drive at 10 but due to modern times, didn't officially start working here until he was 14, although he helped out frequently. He graduated from Coastal Carolina University with a Bachelor's in Management and a Minor in Intelligence & Security. He is married to high school sweetheart, Carriel. He runs most of the performance portion of the business.
    We have enjoyed third- and fourth-generation customers and greatly appreciate their loyalty and continued business. We are thankful for all the good customers we have, and look forward to SERVING YOU for many years.